***ALL REGISTERED PARTICIPANTS HAVE BEEN SENT WEBINAR DETAILS VIA E-MAIL. PLEASE CHECK YOUR SPAM FOLDER IF YOU ARE UNABLE TO FIND THE E-MAIL.***
International Day of Yoga 2021
Yoga for Wellbeing ;Yoga at Home
Every year, the 21st of June is celebrated worldwide as the International Day of Yoga (IDY). The public has embraced this event in the previous years, adopting it as a celebration of India's culture and tradition. This year IDY comes in the middle of a health emergency. Hence the observation of IDY has become a search for good health and peace of mind, this time.
Today the whole world is worried and gloomy about the Covid- 19 pandemic. Yoga is especially relevant now, since its practice leads to both physical and mental wellbeing. Of particular importance in these difficult times are the following two proven benefits which the public can gain from Yoga: a) Positive impact on general health and immunity enhancement, and b) Its globally accepted role as a stress buster.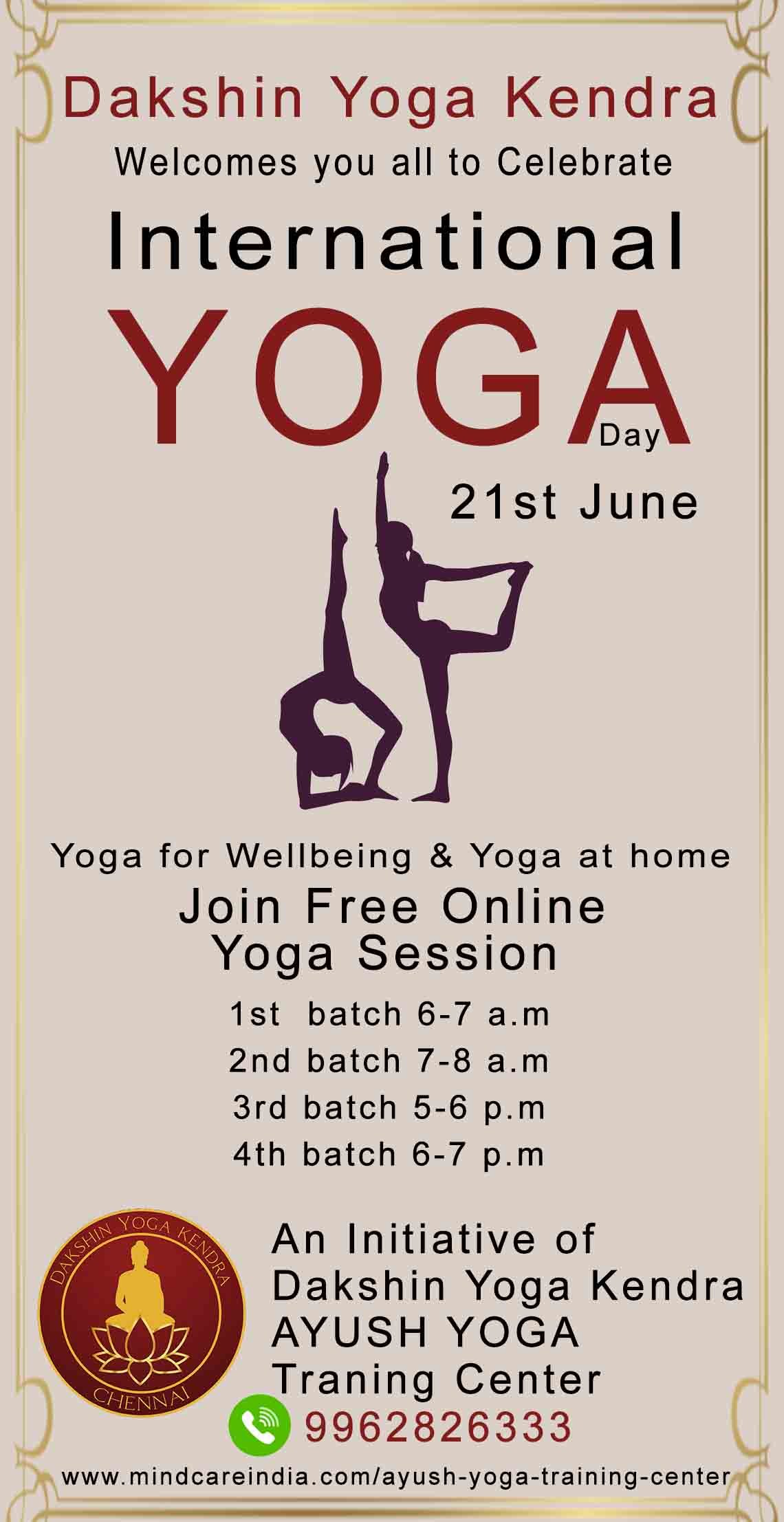 Registration for International Yoga Day 2021
"E – Certificate" will be provided to all the participants.
न तस्य रोगो न जरा न मृत्युः प्राप्तस्य योगाग्निमयं शरीरम्‌॥
na tasya rogo na jarā na mṛtyuḥ prāptasya yogāgrimayaṁ śharīram ||
One who practices yoga will not be touched by disease, old age or death.
– Svetasvatara Upanishad
We invite you to celebrate the International Day of Yoga on June 21st with yoga and meditation sessions offered by Dakshin Yoga Kendra, The Mind Care Ayush Yoga Training Center.
This is a great opportunity to recover from the challenges that we face today with the pandemic and invest time towards your health and immunity. The practices offered can be done daily in the comfort of your home.
As a commitment to bring wellbeing to everyone, the sessions below will be offered free of cost to all.
Join the teachers of Dakshin Yoga Kendra on 21st June to practice Sukshma Vyayama (Simple stretching exercises), Asanas (Simple yogic postures), Pranayama (Breathing techniques) & Dhyana (Meditation) from the comfort and safety of your home.
Morning sessions – 6.00 – 7.00 am & 7.00 – 8.00 am
Evening sessions – 5.00 – 6.00 pm & 6.00 – 7.00 pm
Mode: On Zoom (Link will be sent in your mail ID which provided in the registration form)
Please click on the link to register for this FREE YOGA PROGRAM
There are no charges for participating in the sessions.
Join Free Yoga Appreciation Program
Get Certificate from Ministry of AYUSH
Yoga Appreciation Program is a 4 Days, 3 Hr Online session (45 minutes daily) It was developed by a team of leading Yoga gurus and experts, and includes safe practices to improve physical, mental, emotional and spiritual health of the population, which can be practiced at home on a daily basis. It is designed to be easily adoptable by the majority of the people irrespective of their age and gender and can be learnt through simple training sessions and online classes.
Dakshin Yoga Kendra AYUSH YOGA Training center extends this opportunity to enrol your self in Yoga Appreciation Program and get a Certificate from Ministry of Ayush.
NCC Cadets are requested to fill "YOGA APPRECIATION PROGRAM" form also.
NOTE:- In this Registration form, Please fill the institution name as "The Mind Care Dakshin Yoga Kendra"
After Registration Login